GHANAIAN COMPANIES WIN $ 300,000 IN POWER AFRICA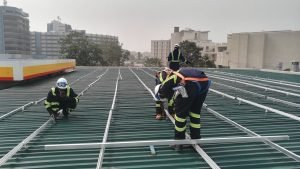 Three Ghanaian companies have emerged winners in the Power Africa Off-Grid Energy Challenge, sponsored by General Electric (GE), United States Africa Development Foundation (USADF), and the United States Agency for International Development (USAID).
The companies, which have each been awarded a grant of $ 100,000, are Solar Light Company Limited, Kumasi Institute of Tropical Agriculture (KITA) and New Energy.
They submitted entries for innovative energy solutions that can be deployed to power socio-economic activities within communities in Ghana that are not connected to the national grid.
The Ghanaian companies joined 19 other grant winners from Liberia, Nigeria, Tanzania, Ethiopia and Kenya. Over 300 entries were received from across the continent.
Solar Light Company Ltd plans to improve the livelihood of Ghana's informal street vendors, who often work for less than $ 3 a day for long hours in the sun.